Trusted cloud backup for your business data
Backup your email messages and databases too
ET Backup provides online backup for any kind of data. The data to be backed up is compressed and encrypted, so it is confidential. They are sent over the internet to our servers where, to offer you the maximum security, we duplicate them in another location.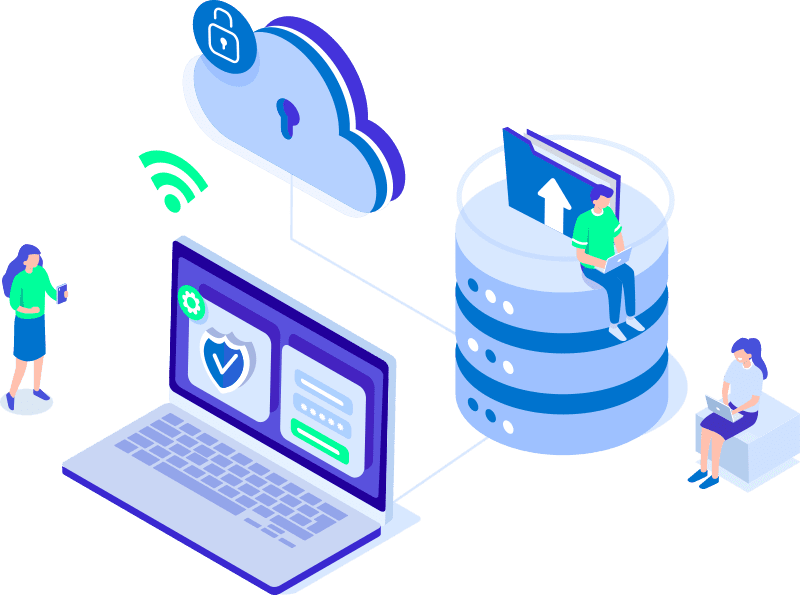 Your data will be safe, whatever happens
High security storage
All the information you back up is uploaded to the cloud previously encrypted and in duplicate.
Backup in duplicate in a place outside the company.
Thanks to encryption, only those who know the password can access the content.
Immediate restoration of your computer equipment in case of incident.
Online technical support 24 hours a day, 365 days a year.
Schedule the backups and worry free thanks to remote management and other facilities.
Schedule copies at your preferred time.
Set up copies of multiple teams from a single account.
Modify the settings online.
Receive an e-mail notification if any incident is detected.
Backup all kinds of data
Its full range of features allow you to make online backups of:
Standalone Microsoft Exchange mailboxes
MySQL, SQL Server and Oracle databases
Lotus Notes and Lotus Domain
Separate Exchange mailboxes
Microsoft Hyper-V virtual machines
30-day-free trial
Contact us with your company's requirements and get a free non-binding trial for 30 days, only for you.
Cloud backup solution
With Windows and other operating systems you can set automatic backups for your computer, but only if stored in the cloud they are a 100% effective solution.
Online backup vs local backup
Online backup is in a great advantage over traditional backups: the copy is stored outside the company's headquarters. If there is a theft or if a computer equipment suffers irreparable damage, you will be able to recover your data.
Information is stored encrypted
It may cause concern that your data is leaving the business environment, but No need to worry . The data is previously encrypted with a unique key. In this way, anyone who does not know the encryption key will never be able to access the content.
Backup in 2 different locations
To guarantee that your data will always be available in the whatever what happens, the cloud backup is replicated to another data center. So that in case of data center disaster occurs, the second backup will remain available and safe in another place.
GDPR security measures obliges setting remote backups for high level security files.
Your backups, always available and safe
In case of any trouble, contact our support team, 24 hours a day, 365 days a year .
Don't risk the integrity of your data. Go online backup with no capacity limit for less than you imagine.
Fast and realiable remote support service
ET Backup can be installed in several computers at the same time, each with his own settings. Cloud manage everything from the same account, whether they are servers or devices, at no additional cost.
No worries on scheduled backups
Schedule copies to run at a certain time , for example, when nobody is in the office, and you will receive a notification in case of trouble. In addition, our team regularly check backups to make sure everything is working properly.
Recover your data when you need it
You can restore a backup from the cloud, and in case of attack or technical failure we provide you online technical assistance and immediate restoration 24 hours a day, 365 days a year.
The only effective solution against data hijacking
What is data hijacking?
It is one of the cybersecurity problems that can most easily affect your company, also called cryptolocker or ransomware virus.
The attack starts in a imperceptible way for the user: usually with an email that tricks the user into clicking on a link or open an attached file that seem reliable.
In both cases, hijacking of your data is executed and immediately afterwards the attacker will demand an amount for its restoration. The problem is often that this restoration does not occur even though we pay.
How to avoid a Cryptolocker attack?
An invoice that seems reliable, a message from your bank from a false address, the use of official logos in the message… They are increasingly creative and difficult to detect, so any of us can fall into the trap on the least expected day.
The only effective protection against this problem is to have preventive measures: a backup stored outside of our business environment.
Edorteam has extensive experience and we guarantee that, if you are a victim of one of these attacks, you will be able to return to work as always in a maximum of 24 hours.